Thank you for your hard work this week.
We are doing custom parts production in Toyokawa City, Aichi Prefecture.
it's called industry love
Well, August has started.
It's been a very hot day, but how are you doing?
Recently, I feel that the number of inquiries to Industry Love is increasing little by little.
I'm very happy to think that I'm starting to feel a presence little by little.
Nowadays, we often have companies as our customers, but compared to that, I feel that general customers are more slowly moving forward.
I am happy because it is fresh and I can work very happily.
That being said, we do our best to respond to inquiries as quickly as possible.
Please rest assured.
Well, this time I'm going to make it a chat blog.
There was an Amazon sale the other day.
Here are some of the things I bought there.
I finally bought it. amazon echo show
During my work, I often listen to radio, music, and youtube, but until now, I mainly used the browser on my work PC.
I thought that it would occupy the screen and use memory, so it was the purpose of separating it.
Alexa is very convenient. If you say "Alexa, play 〇〇", it will play.
Latest, after going to work in the morning, I'm doing radio exercises, but it's very helpful because you can post images on youtube.
I also bought the Echo Show 5, which is the smallest one, and it's perfect for keeping it under the main monitor.
You can easily find out the time.
One inconvenient thing is that it does not respond unless you call "Alexa".
Well, it goes without saying, but those four characters are troublesome. smile
"Siri" is shorter!! I'm thinking of customizing the name soon.
It seems that the name "Echo" could be changed.
and one more thing,
I also bought an Amazon Basic Monitor Arm.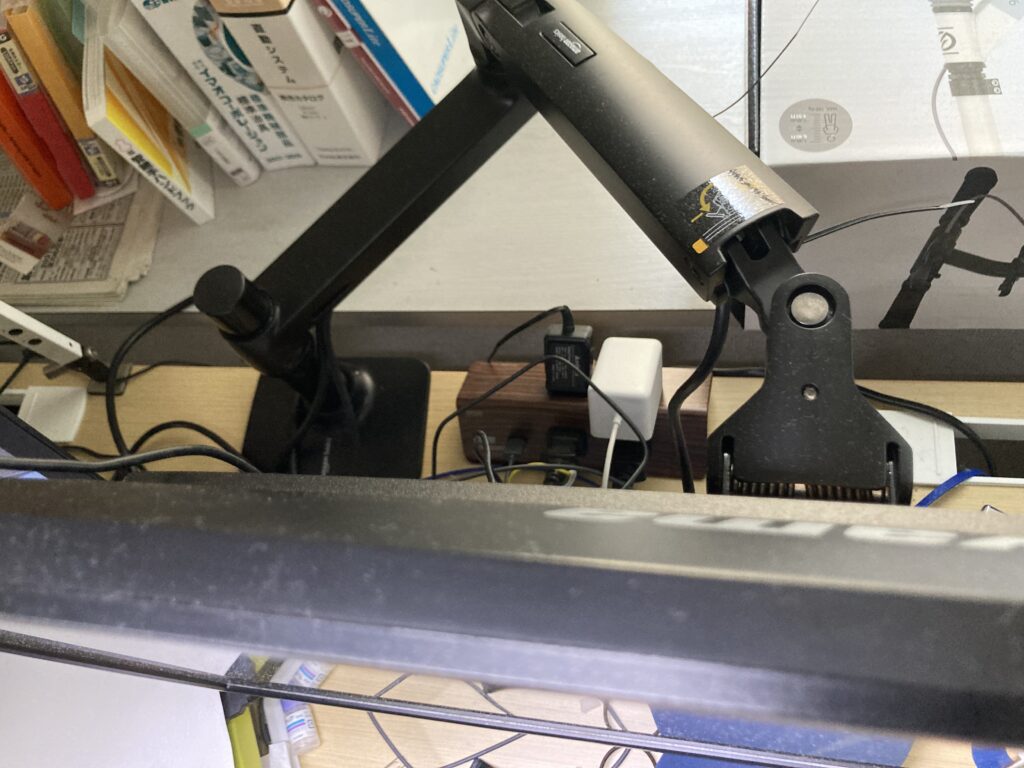 I've been having a hard time adjusting my monitor for some time now, and I've been collecting information on various monitor arms.
Then, I was waiting for the sale for a long time because the quality of both the price and the function was convincing.
As expected, this is also good.
When I installed it, I was able to fix it almost without adjustment.
The movement is a little heavy, so loosening the spring may make it a little lighter,
No problem at all.
Being able to position the monitor wherever you like is helpful.
And it's better than I expected to be free under the monitor.
If you put it on the legs of the stand, you may think that it will be the same, but it feels good after all.
That's how I ended up with a monitor like this.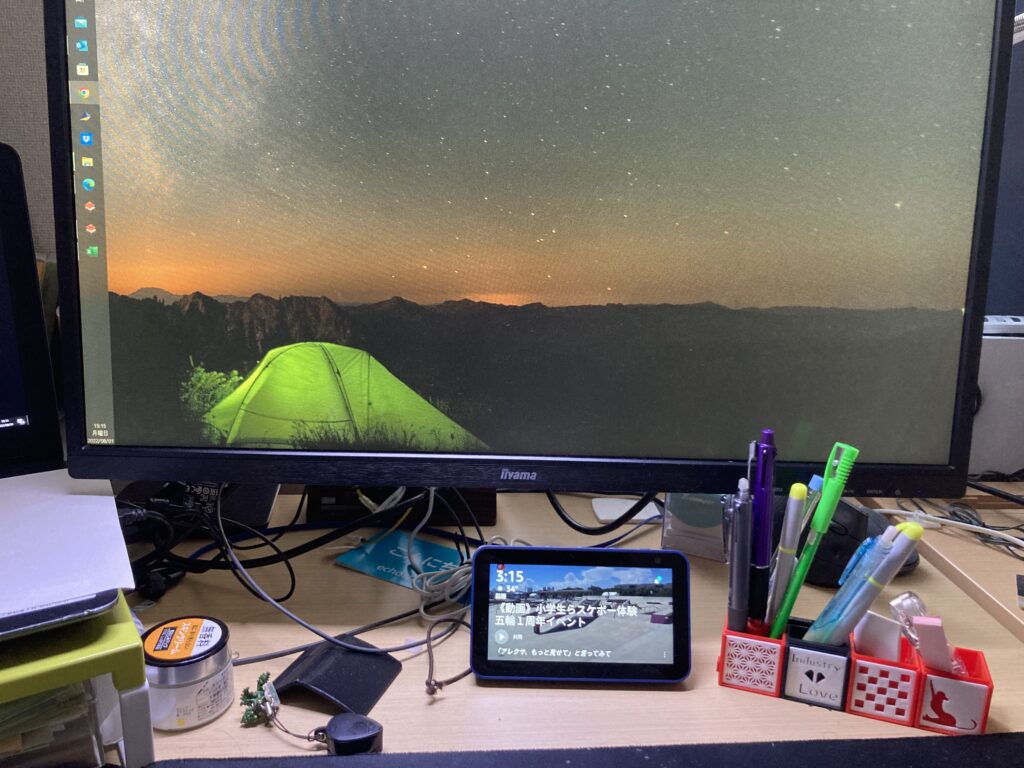 There is one more thing I want about the monitor arm,
It is a monitor arm of Herman Miller who is famous for a high-quality office chair.
This is a really good price.
I want it but it's expensive!!
I wish I had bought it before I worried about the yen depreciation,
I'll make it a dream someday.
By the way, speaking of Herman Miller, it is a sail chair,
Our office chair uses sail chair.
I hope to write a blog post about this on another occasion.
By the way, the reason why I am so particular about office peripherals is that I am currently doing most of my work by myself.
Therefore, it is no exaggeration to say that the speed of my work determines everything.
So I want to create an environment where I can work comfortably and improve my performance.
If you can save 10 minutes a day, it will be 50 minutes a week.
Isn't this bigger than you thought?
I'm going to work with a lot of work efficiency and speed up.
But I don't always have enough time. 😢
I think there are many people who work the longest hours in a day, so I want to have a fun and comfortable time.
Next time I have someone to work with, I will provide a comfortable environment to the extent possible.
That's it for today.
---
Industry Love
インダストリーラブ
Industry Love
TEL:0533-56-7013
FAX:0533-56-7015
mail:otoiawase@industrylove.biz
address:〒442-0051 愛知県豊川市中央道3丁目31番地
address: 3-31 Chuo Expressway, Toyokawa City, Aichi Prefecture 442-0051
問合せ担当:中尾
Inquirer: Nakao